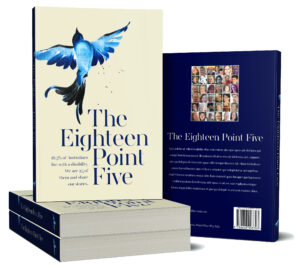 Ordering multiple copies of our printed book reduces the item price down from the RRP of $27.99.
The price per book is between $8.80 and $14 and includes delivery.
These prices are only available within Australia.
If you would like the books printed and delivered to you in other countries, please click here.
Instructions
Fill out the form.
Transfer the funds.
The books are printed and delivered within ten business days.
Email orders@eighteenpointfive.com.au if you have any questions, or the books didn't arrive.
Please transfer funds via the following methods. Purchasing via bank transfer is cheaper than using PayPal.
Bank Transfer – BSB 085060 ACCOUNT 957423077 BANK Nab ACCOUNT NAME John Duthie DESCRIPTION use your name
Paypal – paypal.me/18point5
If you don't see the exact number of books you wish to buy, please contact us for a quote. (minimum of 10)
Share this page with the people you know