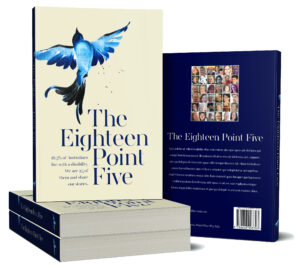 Our synopses will give you an insight into each chapter in our book.
Each chapter shares how our twenty-five contributors live with a disability or disorder.
Order the book here.
Chapter 1 "Portrait of An Author (or My Life in Words)" by John Rynn and Judith Buckingham.

Most writers who finish a book never get published.
Most writers who get published do not get worldwide sales.
Most writers do not have athetoid quadriplegia – a form of cerebral palsy characterised by abnormal, involuntary movement. John has only limited use of one hand and has never been able to speak, but words are his life and his passion.

Indeed, words, especially written words, have become John's bridge to the rest of the world. This is the story of how words have led John to a life as a poet, a writer and a presenter.
Chapter 2 "High-Viz Happiness" by Michael Kuhn and May-Kuan Lim.

Wearing a yellow high-visibility vest, Michael is packing dried pig's ears into bags. His supervisor says, 'The good thing about Michael is that he is always happy.' Indeed, when you meet Michael, you become more cheerful yourself – as if happiness could be infectious – and you almost forget that he has an intellectual disability. His mother, Kathleen, says, 'Michael has a gift for making friends. I wouldn't do that; I would have to think about it before talking to someone. So sometimes I think it is not a disability; it's just different, you know?'
Chapter 3 "Alice's Journey" by Alice Waterman and Emily Woolford.

Alice's Journey explores the life of Alice Waterman, who was diagnosed with a rare and vicious virus called Enterovirus 71 at the age of four. Despite Alice's many setbacks throughout her life, the story highlights her triumphs in the face of adversity – revealing to readers the inspiring life she has paved from extraordinary circumstances. Odes to the family and friends that have assisted Alice in her journey are intertwined with her childhood memories, giving the story a personal and upbeat tone.
Chapter 4 "Struggling with Faith" by John Duthie.

If John graphed the level of his faith over time, it would resemble a sine wave. On September 11, 2009, the graph was at its lowest point, and a tree hit John, paralysing him from the chest down. This was followed by 16 months in the hospital, and he experienced chronic pain and separation from his wife. Throw in a suicide attempt, and then things changed, including his level of Faith. The story shares the journey from a hopeless situation to having hope for the future.
Chapter 5 "Living in Adelaide As a Couple with Disability" by Faisal Rusdi and edited by Marie Doener.

Faisal follows his wife, who is a visiting student, to Australia. For eighteen months, he discovers places and activities that are open to a couple in wheelchairs. Travel with him as he discovers opportunities to enjoy the Australian lifestyle while continuing his work as an artist. He is seeking ideas to take back to Indonesia to continue his advocacy work.
Chapter 6 "See the Real Me" by Jacy Arthur and Diana von der Borch-Garden.

What is it that sets us apart, or gives us the desire to succeed against all the odds? This is the story of Jacey, a woman, a mother, and a graphic designer with cerebral palsy and a hearing impairment. Jacey takes us on a personal journey to determine whether it is an innate personality that helps some people overcome challenges and achieve goals, or whether the need to overcome challenges builds the character that enables us to achieve our goals.

Her journey includes the time when she flew to Adelaide on her own to live at Regency Park when she was just five years old, and when Jacy learnt new skills so she could climb Uluru. Be inspired by her love of life.
Chapter 7 "Do You Ever Feel Like You Just Don't Fit In?" by Phillippa Smoker.

Phillippa's story explores the journey of self-discovery. After being diagnosed with Autism at the age of 35, Philippa learned how to be herself all over again. Eventually, she accepted the situation and sharing her story is a way for Phillippa to share that pride with others in the hope they will feel the same.
Chapter 8 "Our Journey with James" by Cristina Lantican Rodert.

James was born with Down Syndrome, as well as hearing and speech impairments, and he was later diagnosed as Autistic. Yet he has enriched the lives of each member of his family, giving them not only a different perspective on life, but also a better appreciation of life. Their goal is for James to reach his full potential, to be happy and healthy, and to be well cared for.

Although this is the story of the challenges one family faces by having a child with multiple disabilities, it is also the story of how they feel privileged to have James in their lives.
Chapter 9 "The Obstacle Course" by Ross Hill-Brown and John Francis.

Working as a Criminal Intelligence Analyst, Ross is an expert at recommending solutions to problems – but he still puzzles over why the car he was driving crossed the centre line. The accident left his mother dead, and him in a spinal unit and the devastating news that he would never walk again.

Helped by his firm Christian faith family, friends, work colleagues and many professionals, he has defied his diagnosis and overcome many obstacles, finding modified ways to do familiar things. He's even returned to the athletics track his club and Masters athletics. But now an earlier challenge has returned – the health of his wife, Joy.
Chapter 10 "Living with Deafblindness" by Linda Fistonish and Valerie Everett.

Linda began losing her sight when she was just five years old, yet she never doubted her own capabilities. At eight, she was deafblind and attended a school for the blind where she mastered Braille in just one short term! In high school, when a teacher commented, 'You're not good enough to go to university', Linda decided to prove him wrong. She matriculated and went on to complete a Bachelor of Psychology.

Confident of her capabilities, Linda has travelled overseas, participated in the workforce and been a staunch advocate for the rights of the deafblind. In 2012, she was inducted into the WA Women's Hall of Fame for her voluntary work with deafblind people. Her belief in herself and determination to overcome challenges and people's perceptions is exceptional.
Chapter 11 "A NEWS-Worthy Knock-On" by Jonathan Nguyen and Chantel Bongiovanni.

Jonathan started playing electric wheelchair sports as a kid, when his friends at school encouraged him to come play with them. Now, as a young adult, he's played locally for over 10 years, but, despite being a talented athlete, he's been hesitant to try out at a national level. After an accident on the court makes him question these decisions he's maintained for so long, Jonathan takes the plunge and joins the South Australian state team to compete on a national level. What he never anticipated was the response he'd get.
Chapter 12 "Will You Die Before Your Death?" by Tracy Meg and May-Kuan Lim.

Life is like an Xbox game: each hurdle is a challenge, and without challenges, it would be boring. But how many challenges can one person cope with? In 2013, Tracy was backpacking in Australia when she had a motor vehicle accident and became tetraplegic. Since then, life has been full of obstacles, but Tracy collaborates with others to find solutions.

Having problems is part of everyone's life - what counts is whether you face those problems and find answers or blame your situation and run away? In other words, will you die before your death? It's your choice. The game is not over yet.
Chapter 13 "What We're Wheelie Like" by Gail Miller.

As a Type 1 diabetic, Gail is not treated like an oddity, even though she has had this disorder for 27 years and it will remain with her until she dies. Why then, she wonders, did her mother suddenly morph into a person worthy of 'special' interest whenever Gail took her out in a wheelchair? One day at the Royal Adelaide Show, Gail's mum hopped out of her chair to have a closer look at the exhibits and Gail, exhausted, sat in the wheelchair for a rest. What an educational ½ hour that turned out to be …
Chapter 14 "Intermissioned. Take 1" by Neville Hiatt.

8th July 2008 5:45 PM. Neville's leather encased body slides down the highway. As he crosses lanes, Neville wonders when a car will run over the top of him. Much changed on that day and Neville is now medically retired for life. His story commences (as most good stories do) in the beginning when Bev met Kev.
Chapter 15 "Balancing Act" by Kathryn Hall and Rachel Mann.

Kathryn Hall joined a theatre company on a whim and has never looked back. She has embraced the challenges of acting and has enjoyed the opportunity to express herself on stage and in film. She has discovered that with perseverance, drive and a never give up attitude, her cerebral palsy is no barrier to reaching her goals. Kathryn's story reminds us of how stepping into the new and out of our comfort zone can lead to a sense of purpose, self-acceptance, a sense of belonging and unexpected joy!
Chapter 16 "Behind Closed Doors" by Melinda Jones and David Wayne Wilson.

We all walk our own journey in life, with no one really knowing the truth of our disabilities, and what we experience day to day behind our closed doors. Melinda has Neurofibromatosis Type 2 with ongoing tumour growth in the brain and spine, and she writes about the daily and constant pain, suffering, loneliness, lack of self-esteem, heartache, bullying, and depression. Despite this, Melinda has achieved a great deal, battles on in the face of all the difficulties, and makes the most of life. Her love of life is what has always driven her to success.
Chapter 17 "Deaf, Blind and On the Catwalk" by Vanessa Vlajkovic.

Vanessa's story is about her journey to become a model, despite having only 20% sight and inconsistent hearing. It tells of the isolation she experienced during mainstream schooling and the challenges she faced as a teenager who wanted her independence, but had overprotective parents. It speaks of the challenges in learning sign language at age 16. But most of all, it shows us how she became her own advocate and smashed the barriers that stood in her way.
Chapter 18 "Save The Drama for The Llama" by Zia Westerman and Pamela Farley.

Zia is an amazing young woman who is making a difference for disabled people in her community. Her story is of the struggles she and her twin sister, Cyanne, contend with each day, living with Limb Girdle Muscular Dystrophy. Her first-hand knowledge of the limitations that disabled people face has given her insight and drive. Zia is an advocate for change who has discovered her voice and knows how to use it.
Chapter 19 "Bee-Longing" by Bee Williamson.

In 2000, Bee Williamson was diagnosed with schizoaffective disorder. In this story, she explores the concept of belonging, by remembering friends who helped her define this elusive state. Her first true friend lives above a reggae café where they dance every Saturday morning to Bob Marley, and eat Picnics and Snickers for breakfast. Then there were her friends at high school who helped ease her awkwardness with bucket-loads of theatre, dance, music and chutzpah.

During her ongoing journey of recovery, Bee also finds her emerald Buddha, her psychologist, and her mother's deep, enduring love. And discovers that belonging is to be found inside the centre of her own heart.
Chapter 20 "How to Be Beautiful" by Grant Lock.

Grant directed Afghanistan's largest eye care program, until he became blind. He returned home to a society with its own blind spots. He shares the story of the social murder: marginalisation. After battling corruption, injustice and disadvantage in the deserts, mountains and cities of Pakistan and Afghanistan, Grant confronts us and then tells us how to be beautiful.
Chapter 21 "A Treasure Hunter" by Alex Blackmore and Nadja Fernandes.

Like many other children, Alex lives with his parents and three siblings, in Adelaide. However, his is no ordinary life. Due to a congenital condition, he was never able to walk, although this has not prevented him from having a vibrant, physically active and fulfilling life. He likes swimming, playing Paralympic Football, and has recently taken up surfing. These are only a few of his many interests. With a bright mind and an acute sense of humour, Alex's life tells a beautiful story.
Chapter 22 "Daring to Dream" by Mary Albury and Valerie Everett.

Daring to Dream is a heartfelt story about the will to overcome almost impossible odds. Mary Albury was diagnosed with Cerebral Palsy at aged three and with a bleak doctor's prognosis for her life ahead. She also suffered epilepsy and scoliosis, but after painful, complex spinal surgery, graduated high school and began university. Accomplished from a wheelchair!

When she became engaged to her one true love, Mary was determined to achieve the unthinkable. With the endurance of an athlete, she commenced intensive medical therapies with the goal of walking down the aisle at her wedding. This is a story of undeniable courage.
Chapter 23 "My Life with Huntington's Disease" by Ben Wilson.

Ben has a long history of playing sports at an elite level, including playing for Sydney and Collingwood in the Australian Football League. He also completed a Bachelor of Education and a Masters of Leadership, and taught at St Peter's College in Adelaide. Ben was diagnosed with Huntington's Disease and provides a message of hope to others living with the same disease. His story is about serving others, which, for Ben, includes running as a candidate for the Dignity Party in the 2018 South Australian election.
Chapter 24 "Redlegs and Family" by Rick Neagle and Marie Doerner.

Careers come and go, but children are forever. While growing up, football was everything. The thrill of kicking goals and winning matches in a professional career with the Norwood Football Club, and later as a physiotherapist. The Redlegs were still crucial to Rick, and he assisted the players, rather than being a player. The game, and winning, was always his number one priority in life.

But then life really began when Rick's children were born. First came Taylah, the light of his life and then Mitchell, who gave new meaning to life. Mitchell has autism, and Rick began the fight to improve the lives of people with disabilities. It has taken Rick to the next level.
Chapter 25 "Losing Sight, Gaining Insight" by Nadja Fernandes.

A man started to lose his sight in his late twenties and his whole life changes. Having to quit his job is just the start of it. But, despite the challenges and trials, and with the support of his family and a wicked sense of humour, his endurance surpasses expectations, and he learns new skills, which includes playing golf so well that he has more than a few competition wins to
Share this page with the people you know