If you find a story in the media about our book, please contact us, and we will add it to this page.
23rd December 2020 – Minda Family Bulletin – Christina Rodert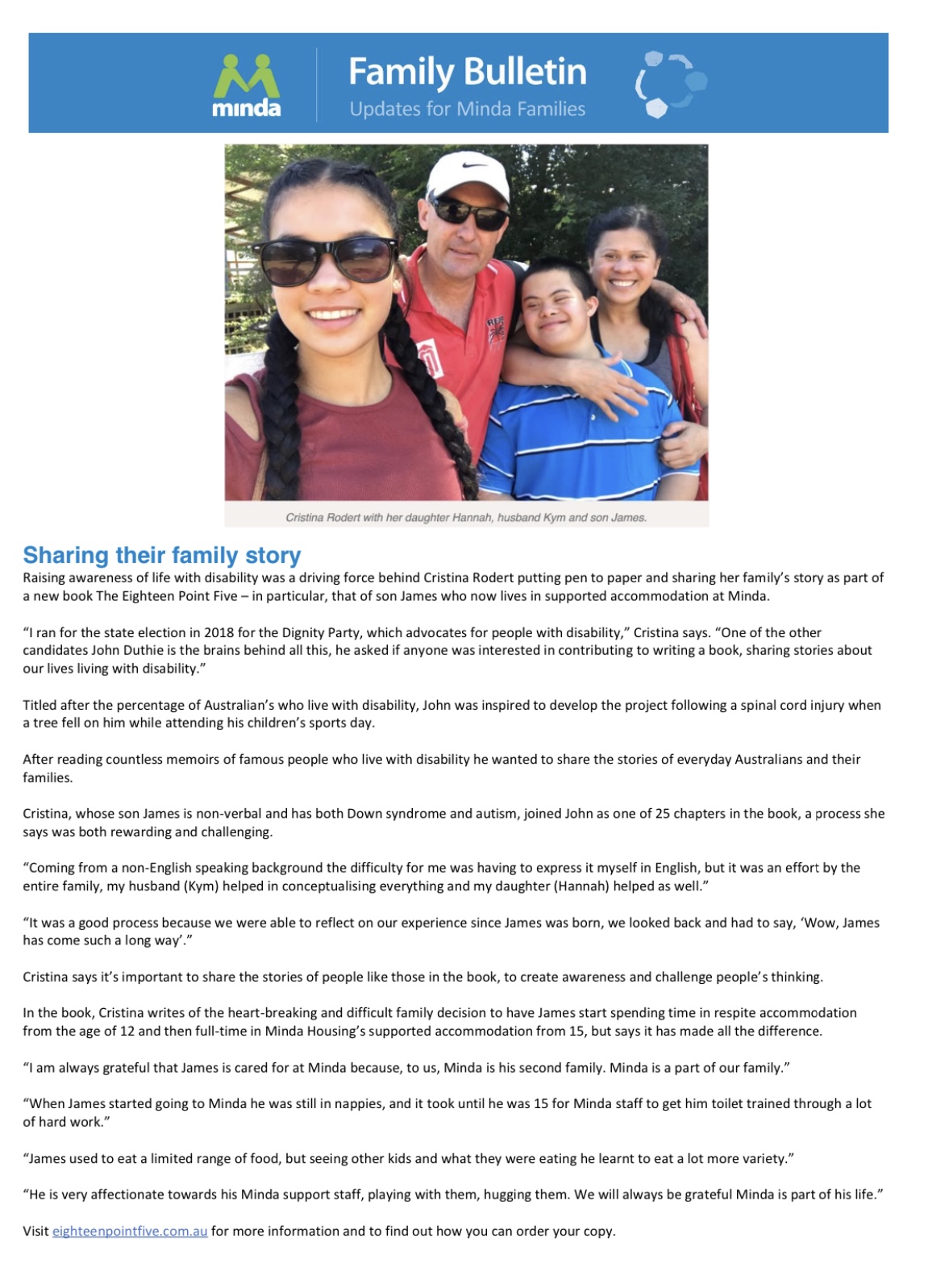 25th November 2020 – Peter Goers ABC Radio Adelaide – John Duthie
Listen to the program here, or click on Peter's face (fast forward to 1 hour and 34 minutes for the interview about our book).
21st November 2020 – The Advertiser SA Weekend – The Rodert Family
Down syndrome, autism: How James Rodert and his family cope
Parenting a non-verbal child with Down syndrome and autism has had its challenges, but James Rodert has helped his family appreciate the small things. (click here for the original SA Weekend article)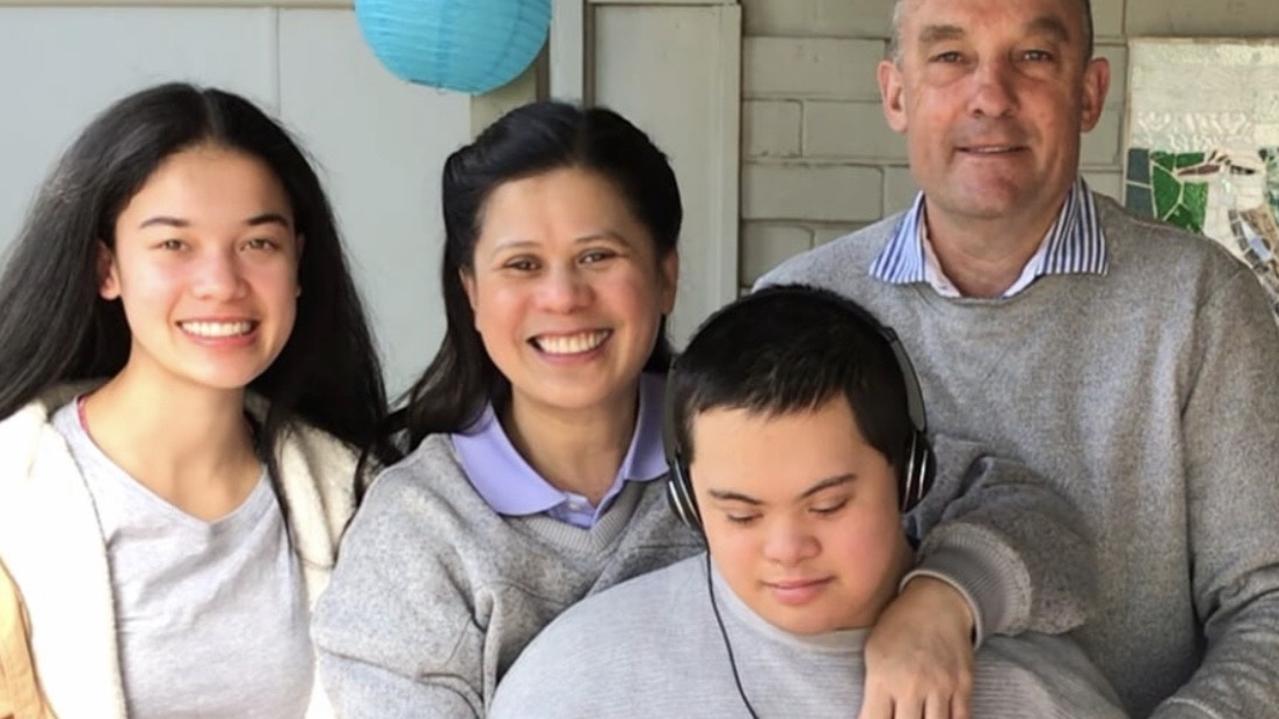 Christina and Kym Rodert with their daughter Hannah and son James from the book The Eighteen Point Five.

We tried our best to manage the everyday challenges. I was always alert, on the ball and it seemed like I had eyes in the back of my head when looking after James. He started taking five different medications. We would dress him, bathe him, prepare his food, supervise him all the time and do just about everything for him. It was a challenge. He was so dependent on us.
Due to the complexity of caring for James, our daughter Hannah missed out on our attention. She couldn't participate in sports or attend her friends' parties. She couldn't invite her friends for sleepovers due to James' behavioural issues. We could not entertain friends or family at our home or attend their gatherings due to our caring responsibilities. We could not take James to other people's houses due to his unacceptable social behaviour. We became isolated from family and our social network.
James wrecked many things at home. He broke our windows so many times that we had Perspex windows installed. These are durable, and even though he has banged and scratched them more than a thousand times, they are still unbroken. He has also broken plates and glasses. One time he picked up a stack of plates and just dropped them on the floor. That is when we put up the kitchen gate and purchased plastic plates. James has an iPad which he uses to watch music and videos. When I bought an iPad for myself, he wanted the new one instead. Due to his inability to express his wants verbally, he stabbed his own device with a screwdriver. I got it fixed, but he did it again, and only then did I realise that he wanted my new iPad.
When James sat on the door of our new oven, the supplier fixed the door, feeling sorry for us, but advised that it would not be fixed again. But of course, James sat on the oven door again, and (my husband) Kym had to fix it by putting a hinge on it. I put up with an oven that did not seal properly for more than 10 years. Our 63" plasma 3D television lasted eight months before James hammered the screen. When we replaced it, Kym boxed it in so James could not reach it. James has broken so many mobile phones and radios that I have lost track. It was costly but James loves to listen to music so it's worth it. We share his joy each time we see him happy, listening to his music.
As James approached puberty, his behavioural issues continued to escalate. His violence at home became unbearable and the sleepless nights continued. He started staying at the respite home when he was 12 years old.
It was a very difficult, heartbreaking decision for our family to make, but it was the only way we would be able to function. At 15 years of age, he stayed full-time at Minda Housing's supported accommodation. James now comes home one night a week. We finally found a happy balance.
With James living at the supported accommodation, our daughter Hannah was finally able to participate in sports and to play netball. She could invite her friends home for sleepovers and to take part in extra-curricular after school activities. We grieved over sending James to Minda. However, we had to let go so that James could be the best person that he can be.
James has become independent since he started living at Minda full-time. But due to his inability to communicate, he sometimes still expresses his frustrations in violent and unacceptable ways.
In the beginning, he went through a phase where he ripped his clothes. We were unsure what triggered this behaviour and were unable to stop it. All I could do was to keep buying and supplying new clothes for James each week. This was an expensive exercise that went on for several months.
James was 15 when he was finally toilet-trained. Also, at respite, James discovered that other kids ate a variety of food, so he started to follow their example. Now he enjoys a much healthier diet. We are grateful to the staff for their great efforts to lead James towards independence. These are significant achievements and huge milestones.
The transport schedule for James' weekly visits home from Minda was organised for the whole term so I had to plan three months ahead for Mother's Day, Father's Day and birthdays.
James is always busy when he is at home. I cannot imagine where he gets all his energy from. He's so strong and such a busy young man who will hardly sit still for a minute. He is always on the go. He is constantly in and out of the front and back doors.
James is a happy, fun-loving person who lives life without having to worry about anything, as long as he gets what he wants. His life is straightforward and includes his love of music, dancing and performing. James loves having concerts where he dances and sings in his own ways. He is really a joy to watch. We love and adore him so much.
Life is unpredictable, but I have taken the challenge face on. I try my best to stay positive, but there are days when I'm just close to breaking down. There are times I'm unable to cope, but I have to be strong. There's no one else or nowhere else to go. I have to keep strong for the sake of our family. But don't get me wrong; Life with James can be challenging but I'm not complaining.
We all have our own baggage to carry, and mine happens to be my son. James has changed my perspective on life. I have learned to appreciate the small things. James filled a void in our family; he completed us. James is the centre of our universe. If James is happy, we're all happy.
This is an edited extract from The Eighteen Point Five, which shares 25 stories from some of the 18.5 per cent of Australians who live with a disability. Concept by John Duthie, edited by Beverley Streater. RRP $27.99. Order at eighteenpointfive.com.au
3rd November 2020 – Triple Y – Zia Westerman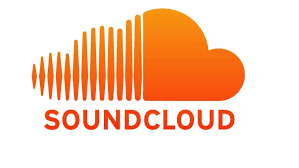 1st November 2020 – Life FM – John Duthie, Gail Miller & Ross Hill-Brown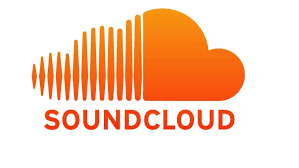 19 October 2020 – Vision Radio – John Duthie
23 September 2020 – Adelaide Hills Courier with Cristina Rodert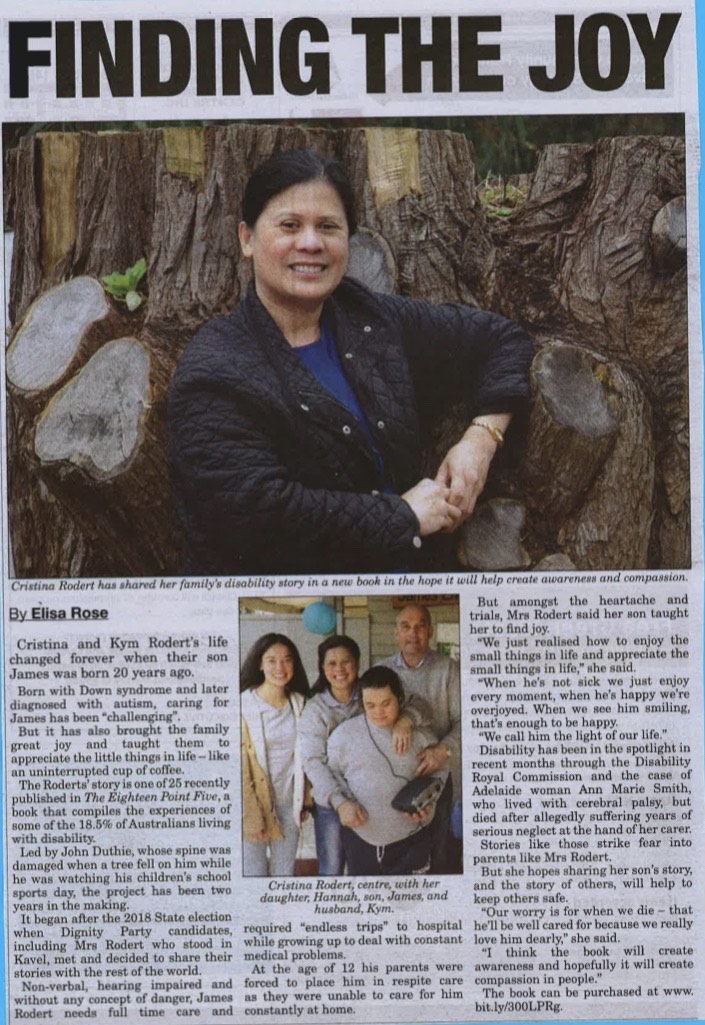 1st December 2017 – North & Northwest Messenger with Terri Mak and John Duthie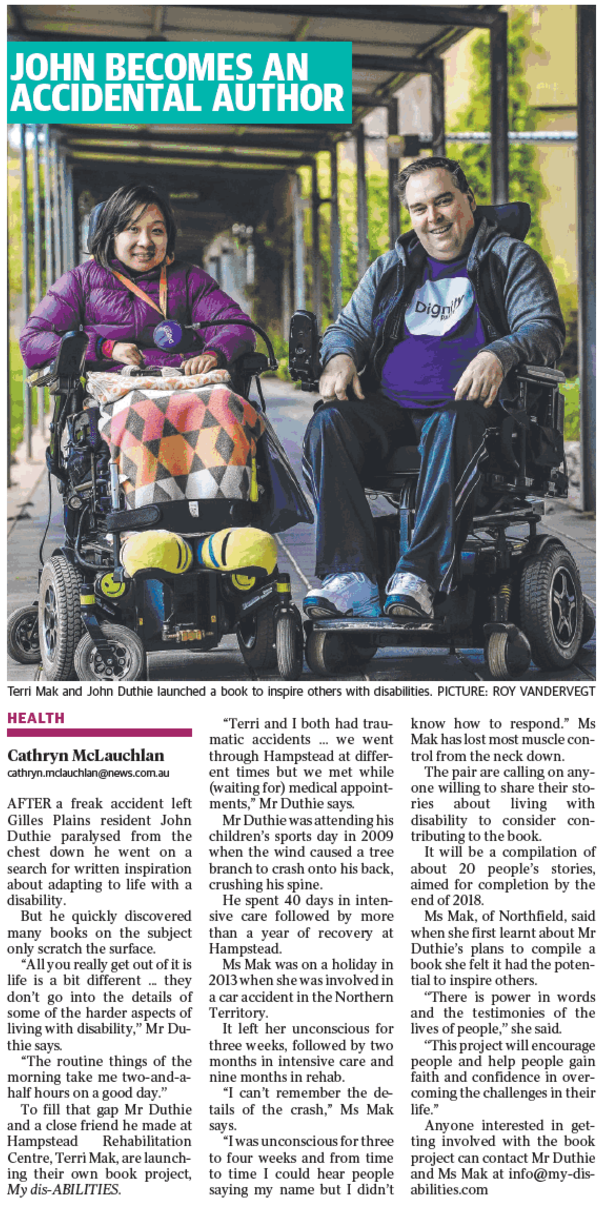 Share this page with the people you know