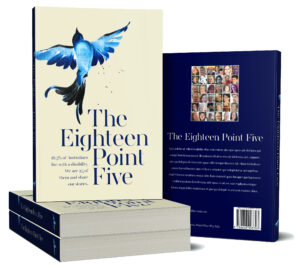 Introduction – why read biographies about famous people?
Why are biographies only written about famous people? We all have a story in us.
In The Eighteen Point Five, twenty-five people share their personal and honest experiences of living with disabilities and disorders.
Our stories may shift your thinking and clear up misconceptions. Our contributors hope to encourage readers living with similar disabilities and disorders by sharing insights, challenges and achievements.
With no publishing experience and zero budget, we reached our goal with help, perseverance and hard work. We are pleased with the book. We hope you are too. Click here to order the book.
The book project manager
John Duthie ran projects and lead teams in several organisations. He was working for SA Police at the time of his accident. To prepare for the writing of his memoir, Alive and not Kicking, he read twenty-five books about people living with a disability. A question popped into his head.
'Why are biographies only written about famous people?
He wanted to publish a book of twenty-five stories of unknown people with varying disabilities or disorders. John commenced a book project with the name 'MY disABILITIES', as it was better to focus on abilities, instead of disabilities.
If you are living with a disability or disorder and would like to be involved in the next book, please contact us.
South Australian team members meet for a celebration
On our publishing date of September 25, 2020, a few of the South Australian team members gathered to meet up, chat and eat. And share in our celebratory ice-cream cake.
Share this page with the people you know