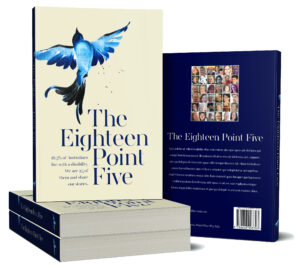 We published our book with the financial assistance of our sponsors.
They helped to pay for the editing, typesetting, printing of books, the team celebration gathering in 2020, and other expenses.
The book project thank our sponsors for their generous contributions.
Order the books here.
HELP AT HOME INC.

helpathomeinc.com.au

Help At Home is a charitable not-for-profit organisation that began in 1991 by a small group of dedicated volunteers who recognised the growing need to provide in-home support to people living with a disability and the elderly in their local community.

Since then Help At Home has grown to employ over 160 staff and are committed to providing personalised support services throughout metropolitan South Australia. Help At Home is a registered NDIS provider and staff are screened, trained and accredited.

Help At Home offer a wide range of services to assist clients from younger people with a disability through to the aged to achieve their goals and maintain their independence and quality of life in their own home. We listen to our clients and aim to match Support Workers to their goals and needs. Our dedicated caring team provide a high level of planning and support to our clients and their support staff.

Help At Home provide quality customised services including assistance with self-care, respite, social and community supports, life skills, domestic assistance, overnight care and support coordination.

Help At Home understand and respect everyone's individuality and we believe empathy, compassion, integrity and commitment are essential values. The people we assist are an inspiration and enrich our lives as well.

We are proud to sponsor the Eighteen Point Five book project.

BRAZIER MOBILITY

braziermobility.com.au

Brazier Mobility, located in Adelaide, has helped people with disability get out of their homes and into the community for over 30 years. We help people get into cars, get their things into cars as well as drive themselves. Every customer has different needs which means that every job we do is unique to that individual. Everything begins with a process of getting to know our customer; exploring the options and arriving at the best solution possible.

We also perform complete vehicle Wheelchair Accessible Vehicle conversions for Community Organisations and individuals. These can range from large buses to smaller family cars.

At Brazier Mobility, we work closely with Occupational Therapists, Healthcare Professionals, Physiotherapists, NDIS personnel and Support Workers. It's a team exercise that relies on honest and open communication.

We are extremely proud of our reputation for delivering high quality solutions in a reasonable timeframe, and at a fair price.

The ability to travel independently is becoming more and more important in people's everyday lives. We believe that having disability should never take away a person's ability to travel. We work tirelessly to turn this dream into a reality.

Visit our website or call us on 1800 BRAZIER (1800 272 943).

BEVERLEY STREATER

www.linkedin.com/in/beverley-streater/

During a long career in human services, I transitioned from face to face service delivery in aged and disability services, to coordinating services, managing teams, and finally providing strategic advice and communications to senior personnel.

My areas of expertise include writing (content, correspondence), editing (both structural and copy-editing), complaints management, quality assurance, customer service, administrative tasks, office management, logistics, leadership, training, coaching.

I bring these skills into play as a freelance editor, offering honest and reasoned feedback to authors in a gentle and constructive way. As an Associate Member of the Institute of Professional Editors, I work with authors of both fiction and non-fiction manuscripts. The opportunity to broaden my reading while assisting writers in expressing themselves effectively has resulted in a successful win/win formula.

In recent years, I became aware of the needs of older women approaching the transition to retirement, which inspired me to set up an interactive and resourceful blog called Classic Women.

I currently combine my contribution as a volunteer in my community (Justice of the Peace, Secretary of the Gold Coast Writers' Association, committee member of Palm Beach Creative Stitchers), alongside my freelance editing work, and regular trips to the local recreation centre.

WRIGHT EVANS PARTNERS

wepartners.com.au

Wright Evans Partners is a Chartered Accounting Firm based in Adelaide. Commencing in 2008, we are a successful, respected and innovative firm with a fresh approach to the accounting and business services industry.

We promise exceptional service without losing sight of the personal touches. With a comprehensive accounting team, specialized superannuation division, internal financial planners and brokers, we provide a complete "one stop shop"​ for all your financial needs, both as an individual or business.

We are proud sponsors of the Flinders Medical School and the Adelaide University Dental School and have been offering industry specific services and advice to the medical and dental professions for over a decade.

MARIE DOERNER

welearnwomen.org

For the past forty years, Marie has lived in the USA with annual visits to her hometown, Adelaide. Life went on, she raised four children and began a career teaching adults with disabilities to read, write and do math. Marie is currently a Learning Disability Specialist for San Diego Continuing Education.

In an effort to encourage writing, she had her students submit writing for publication. That is when she became involved with WE LEARN and their annual journal of writing by learners in literacy programs. Now in its 15th edition, Women's Perspectives motivates students to become enthusiastic writers.

Marie's two worlds converged when she heard about 18.5. On her next visit to Adelaide, she met with John and Terri and volunteered as a writer and proof-reader. She has worked with several team members to write, edit, discuss and fine tune writing to move the project forward.

In San Diego, Movement Be says, "Tell your story before they do." This book, 18.5, does just that. People with disabilities telling their lived stories. Real people with real stories.

WATERMAN PROPERTY ADVOCATES

watermanpa.com.au

Adelaide Born & Bred. For Property.

We're here for you.

Our knowledge means you will get the right agent, for the right price, who will do the right thing by you. With more than 30 years experience we have intimate knowledge of all aspects of buying, selling, renting, clearing and preparing real estate for any purpose.

We work for you.

SACARE


sacare.com.au

SACARE is a South Australian family owned and operated business dedicated to providing high quality housing, care and allied-health services for people with a complex disability.

For more details visit our website.

SERENITY HOMES


serenityhomes.com.au

Serenity Homes Pty. Ltd. established in March 2001 by business owners Gary and Jennifer Barnes is a family-owned luxury custom builder based in South Australia, and continues to remain under their inspirational leadership.

Choosing to only build a select number of homes a year, each project is a collaboration built on integrity, honesty and open dialogue with clients.

Serenity Homes caters for both the new custom built home market and premium home additions/renovations market.

We enjoy what we do, and this is reflected in the homes we create; building all styles of homes including traditional, classic and modern contemporary.

ALIVE AND NOT KICKING

alive-and-not-kicking.com

'Alive and not Kicking' is an appropriate name for a memoir about paralysis resulting from an accident.

John Duthie was supporting his children at a school sports day, and a tree fell on him. He wasn't expected to survive and spent thirty days in ICU. After a year in rehabilitation, including the onset of chronic pain, he returned home and faced many challenges. It included separation, divorce, bullying and attempted suicide.

However, John is loving life, achieving goals, having fun, being a dad, swimming, driving, riding, while attempting to deal with the difficulties of acquiring a disability.

And he is alive (and not kicking).

XTRACARE EQUIPMENT

xtracareequipment.com.au

Xtracare Equipment is a family owned and run business that has been helping people find the right assistive technology since 1995. We are an NDIS approved service provider who go above and beyond to find equipment solutions that enable our clients to meet and exceed their goals.

Our area of expertise lies specifically with custom made manual and sports wheelchairs, power wheelchairs, positioning and pressure management, paediatric rehabilitation equipment and equipment modifications.

LET'S REMEMBER THIS

letsrememberthis.com

John Francis is a Melbourne-based writer and videomaker. He specialises in telling people's personal histories, in print and in video and podcast documentaries.

Each of us has a unique story to tell. As we get older, we become aware that our life experiences have value for our children, and their children, and so on. John's job is to present life histories so that they 'come alive', and 'connect' with those who come after us, those whose lives, inevitably, are so different.

SPRING STUDIO MELBOURNE

springstudio.com.au

Based in Melbourne, Spring Studio provides high quality audio and video recording and production.

With 37 years in Australia, Harry Williamson brings an experienced and collaborative spirit to each new project.

We also record audio books for Amazon, create original music and backing tracks, and manufacture sound booths for the ABC, the Army, Universities and private clients.

Please get in touch if you have a creative project you'd like to discuss. harry@springstudio.com.au

WHEELCHAIRJOHN

wheelchairjohn.com

WheelchairJohn is an inadequate description of me. I am John Duthie, who uses a wheelchair, who has a spinal injury, who follows Jesus, and many other things. However, WheelchairJohn is easy to remember and sounds better than Johnwheelchair, or Johninawheelchair or other combinations.

At age 44, I almost died and acquired a complete SCI (Spinal Cord Injury) at the chest level. I developed chronic pain, and a few times, I considered death a better alternative. However, life is still worth living, although it has many challenges.

My blog shares life as a Christian with an acquired disability.

RUNDLE BLINDS & CURTAINS

rundleblinds.luxaflex.com.au

Since the 1950s, the family-owned and operated Rundle Blinds & Curtains has custom-made top quality curtains & blinds. We've moved from manufacturing our products to selling the world-leading LUXAFLEX window fashions range. As one of the biggest curtain retailers in the state, we offer on-trend styling solutions for your home.

Our focus is to provide a seamless customer experience with the product, install & design experts to help you every step of the way. Our showroom in Kings Park offers the opportunity to see and experience our full range of products, with professional advice to help you create the perfect ambience for your home.

HANNAH, CRISTINA, JAMES AND KYM RODERT

Our family lives a challenging yet fulfilling and rewarding life. James, our son was born with Down Syndrome and has been diagnosed with Autism. In addition, James is speech and hearing impaired.

Although he hasn't spoken a word in his life, we understand James well. Our chapter aims to raise awareness and understanding of people living with multiple disabilities and special needs. We welcome you to read 'Our Journey with James'.

ASPECT CONVEYANCING

aspectconveyancing.com

Aspect Conveyancing have worked in the property industry for over 25 years. We specialise in land development and handle all aspects of both residential and commercial conveyancing. Aspect Conveyancing is a newly established firm with a fresh approach to conveyancing. Our personalised service and expertise takes the stress out of your property transaction.

At Aspect Conveyancing we can assist with the following services: Contract and pre-purchase advice; Residential; Private contracts; Form 1 preparation; Matrimonial & De-Facto Transfers; Family Transfers; Deceased Estates; Land Divisions (both Torrens and Community); Specialising in land development.

STEPHAN SICILIANO - RAY WHITE NORWOOD

raywhitenorwood.com.au/agents/stefan-siciliano/72489

Reliable, likable and always available. Stefan Siciliano knows no boundaries to service and commits 24/7 to his real estate career, and your results. He puts in the long hours, putting valuable hours back in your pocket.

That's what real, real estate agents do. He is also alert to the subtle shifts in market turns, and he converts data into opportunity.

Backed by Ray White's global audience, the largest database of clients throughout Australasia, and its tight grip on the luxury property market, you win.
Share this page with the people you know