"Total Catharsis…Total Freedom" by Mary Albury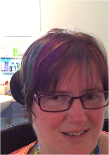 My name is Mary, and I'm a 37 year old woman who has never fully grown up.  My childlike curiosity and fearlessness have enabled me to have a remarkably full and amazing life.  But as with anyone, it is never rainbows and lollipops all the time. I like to think that the adversities and challenges I have stared in the face have only served to make me stronger and more resilient.  I have an incredible thirst for life that is only quenched when I am pushing myself to be the absolute best human-being that I can, and achieving the goals I have set. My life is ordinary and extraordinary in equal measure, and it is something that I am eternally grateful for.
I was introduced to the book project by another writer friend, and from the moment I knew of its existence, I was hooked.  To me, anything that promoted the capabilities and achievements of those of us within the community who just happen to experience disability on a daily basis, was something that I just had to be a part of.
However, I was ill-prepared for the total catharsis and emotional release that took place during the writing process.  Just to have time to reflect on a life well lived was an amazing gift. The ability to revel in achievements without seeming egocentric was totally liberating.  In sharing my story I allowed myself to be totally vulnerable, resilient and above all grateful for all the experiences I have been able to have and the people that have helped me along the way.
This project has reaffirmed my belief that I am just an ordinary person who, with the help and guidance of many, has been able to achieve extraordinary things. The process of writing has enabled me to shine a light on my inner self and my strength.  If my story resonates with just one person, then it has been well worth the temporary turmoil of sharing it. I want my story to encourage and support those who avail themselves of the opportunity to find and stay on the path they were destined for.
A successful project for me is to have as many people as possible read this book and take its message to their hearts.  Only then may this one book be the catalyst for slowly, patiently but purposefully changing community attitudes, so that true and meaningful collaboration and full inclusion are not the dreams of future generations.  I would dearly love for the book to be used as a vehicle to show people that with tenacity, good humour and determination, anything is possible. Life is what you make it, so get out there, embrace it and make your mark in whatever way you can.
Share this page with the people you know