"My new friends: Michael and TM" by May-Kuan Lim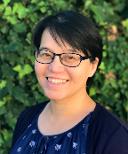 I heard about the book project when I met project managers John Duthie and TM at a self-publishing workshop at Writers SA in 2017. I loved the concept and offered my services as a writer.
At coffee break that day, I remember wondering if TM needed help to get a drink, but I didn't dare ask. Up to that point, I didn't personally know anyone who used a powered wheelchair, or who was quadriplegic. I was afraid that my offer of help would offend her.
Since then, I have interviewed TM for her story. She assures me that it's OK to ask if someone needs help, but stresses the importance of first asking if help is required. She has, she reminds me, spinal cord injury, not brain injury. A challenge of writing TM's story is just keeping up with her schedule (sailing on a Sunday and then scuba diving on a Monday – see the video here) and accommodating her many creative ideas about how to present her story.
Apart from writing TM's story, I have also written Michael Kuhn's story. One benefit of being involved in the project is getting to know Michael, who has a moderate intellectual disability. When I visited Michael at Orana, his workplace, his work supervisor told me, 'The good thing about Michael is that he is always happy.'
A challenge of writing Michael's story is that he doesn't say much, not to strangers anyway, and I started off as a stranger. The crux of Michael's story is in the way he sees the world, his basic optimism, even when things don't go his way. I had to find a way to convey that.
I would love to see the book published – I think Michael has already been telling his co-workers that I am his writer and that his story is going to be in a book. It will be a success if it addresses the questions: what is it like to be you?
As a mum of three, I've had to reinvent myself professionally several times over, from broadcast engineer to freelance writer. What looked like a professional disruption at first, turned out to be an opportunity to do what I really love: writing stories.
Three fun facts about me: one, I'm always on the lookout for good, fast food, which I define as anything that can be cooked in under thirty minutes that my children will eat and my grandmother would have recognised; two, my preferred method of anger management is hacking away at my ivy fence that is practically indestructible; three, I love word games, good books, sweet-smelling roses and peaches that ripen on the tree.
'From 2007 to 2015, May-Kuan Lim wrote a monthly parenting column for The Borneo Post. She would interview experts for the column to answer her own parenting dilemmas. Interviewing people and writing became her way of trying to understand the world. In 2015, she won an Arts SA Emerging Mentorship grant for a narrative non-fiction work on asylum seekers. She is a member of Writers SA and Oral History Australia. May-Kuan blogs at maykuanlim.com.'
Share this page with the people you know