"Sharing my Happiness with You" by Michael Kuhn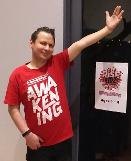 I came to know of this project through TM as we both go to Rise Church regularly. I have known her for more than 3 years.
I like the idea. I would like to have my story in a book for people to read. I would like to share my story to show people how my life is filled with joy. My mum, Kathleen, thinks that my story may help other people with intellectual disability and their families.
When I was young, I had global development delay. Now I am thirty-one years old and have an intellectual disability. I cannot remember how my life was when I was young. Sometimes I cannot express myself.
My mum, Pastor Rob at church and my work supervisor at Orana helped me to get my story together by providing details to May-Kuan, my writer. May-Kuan also interviewed mum and me, and visited me at home, at church and at work before writing my story.
I have made a new friend, May-Kuan. I have also become closer friends with John and TM. Another benefit is that the story reminded me of my early years. I had forgotten some of that.
I want to help others understand the challenges and feelings of people with developmental delay and intellectual disabilities. I also want to help their family and friends by talking about what my mum went through. I want to increase community awareness. I want to tell others that people with intellectual disability can still have a happy life and do meaningful things.
I would like to have at least 500 readers of different backgrounds or professions read this book throughout Australia.
I am 31 years old now. I have had development delay since I was born and am now under the category of Intellectual Disability.
I like playing drums, basketball and going out to meet people.
I finished my first aid course a few years ago.
I would like to be a church pastor for kids one day.
When the book is published, I hope that you will read my story, High Vis Happiness. In this way, I hope to share my happiness with you.
Share this page with the people you know